Rave Reviews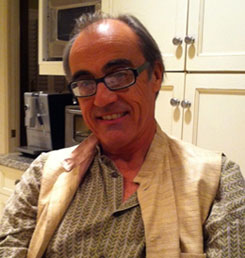 The following was the program for a lecture given by David Humphrey at Rice University, Houston, Texas. The lecture was entitled:
Gemology: The Romantic Science
David Humphrey, who has lived in the Los Angeles area for over twenty-five years, was born in Mexico City when his geologist father was stationed there as an adviser to PEMEX, the Mexican nationalized oil industry. His early education took place in Mexico City and then in Madrid, Spain. The family eventually settled in the United States and David attended schools in Connecticut, Illinois and Colorado. In due time he selected Gemology as his field of expertise and this is what has been said of him by distinguished professionals:
By the late Richard T. Liddicoat, Former Chairman of the Gemological Institute of America, Carlsbad, California:
It has been a great pleasure for me to witness David Humphrey's development from the time he enrolled as a student of the Gemological Institute of America. His record as a student was so exemplary that he was offered a position with a GIA subsidiary company. After he resigned from that position to form his own company, has kept in touch with his friends at GIA.

His record in business was marked early on by his creativity in developing art forms utilizing attractive mineral specimens, accompanied and followed by successful efforts to develop expertise in many aspects of the historical jewelry field. For example, he has become exceptionally knowledgeable in the ancient to fairly recent Chinese gold jewelry and objects, as well as the jewelry of early periods in Europe and America. In the process, he has made many friends.

His instructors can be proud of David Humphrey's accomplishments since his graduation (In 1980).


By David Kamansky, Executive Director and Senior Curator of the Pacific Asia Museum, Pasadena, California:
David Humphrey, besides being one of the premier gemologists in Southern California, is a pioneer in the field of ancient Chinese jewelry. He has collected and dispersed several major collections of these rare objects from the Han, Song, Ming, Yuan and Qing dynasties.

The Pacific Asia Museum was greatly helped by Mr. Humphrey recently, when he arranged for them to borrow more than 75 pieces of Chinese gold, created over the last 2,000 years, for a major exhibition: Collector's Choice: An Exhibition in Honor of Grace Nicholson.


By Carol P. Elkins, G.G., Vice President Sotheby's, New York City:
David Humphrey: collector, scholar and educator. David is one of the most dedicated people I have met in my twenty-three years of work experience in museums and the auction business. Not only has he developed a keen eye for things of great beauty and the finest quality, he has also generously shared his knowledge and expertise with those who are willing and interested to learn more. It is rare to find a person such as David. He is a man of great honor who easily wins over the trust and respect of everyone who comes to know him. When confronted with an obstacle he is tireless in his pursuit at overcoming it. David has vigorously applied all his talents to bring together a presentation, which will not only entertain you but also hopefully will enlighten and inspire you.