About DH
The following is excerpted from an article by Robert Weldon for Professional Jeweler magazine.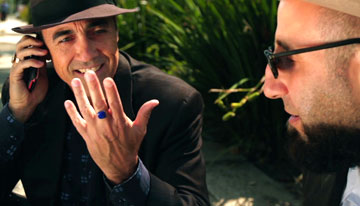 Years ago, before he had a store front, Humphrey quietly sold ancient treasures and select gemstones to a few chosen customers in Los Angeles. During this time, he would visit Richard T. Liddicoat, chairman of the Gemological Institute of America and a friend, mentor and inspiration. GIA staffers recall looking forward to Humphrey's visits and the treasures that would tumble from his pockets one by one: an Art Deco cat's-eye pin, a magnificent Paraiba tourmaline. His store today captures that same sense of mystery and wonder.
Humphrey believes in the power of connections and started to establish them long before he opened his store. In the past two decades he has forged friendships and business relationships with many people, including museum curators and auction house directors with whom he can share information about ancient pieces he buys or sells. "These people are scholars, consummate experts with high standards," he says.
He also lists a number of artists in the musical and theatrical fields as his friends and clients. Humphrey prefers to keep the names quiet and prides himself on creating a comfortable atmosphere for everyone in which, to experience the treasures he has to offer.
Flamboyance is not something David Humphrey is comfortable with. Yet his jewelry has graced actresses and music superstars at such high profile events as the Academy Awards.